SEIS
SEIS

mometer on Exomars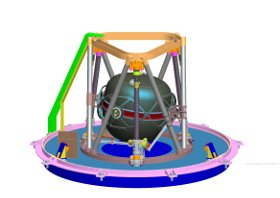 The SEIS instrument is designed to study the seismic activity by interior processes of planets and other bodies in the solar system and in addition it will detect the frequency of meteoritic impacts on the surface. Seismic events will be ranked according their magnitude and the source location will be determined by approximate distance and azimuth.
Science Objectives
Foreseen scientific objectives are:
Determining the present seismic activity of the planets
Mantle attenuation and diffraction
Determining the meteorite flux at the surface
Determining the presence of liquid water in the deep subsurface
Deep interior determination
Core structure
Mantle structure
The Instrument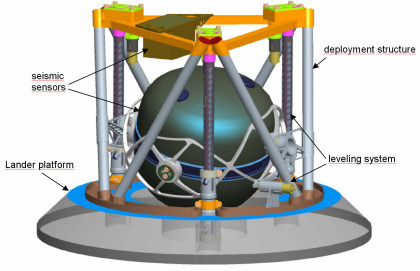 The seismometer (SEIS) instrument was developed in the framework of ESA's ExoMars mission. It uses two oblique very broad band sensors (VBB) and two broad band short period micro-sensors (SP). All together this system assembles a hybrid three axis seismic sensor in their overlapping band. Both sensor types rely on a proof mass which gets excited by external influence. The instrument is designed for an almost continuous operation during the foreseen period of the mission.
The measurements require leveling of the sensors and a good mechanical coupling to the ground. This will be achieved by the deployment system developed and constructed at MPS. Different deployment options are included regarding terrain uncertainties. Baseline is a first measurement period with SEIS fixed in the Lander and a second measurement period after deployment to the ground.
SEIS is a common development of five European partners, namely the teams from the Institute de Physique du Globe de Paris (IPGP), Imperial College London, ETH Zürich, Netherlands Institute for Space Research (SRON) and MPS.

MPS Contribution
Deployment system for the SEISmometer
Mechanical support structure for the sensors
Leveling system including drives
Launch locks
Electronics and operation software
The Team
| | |
| --- | --- |
| Ulrich Christensen | Scientific Coordination |
| Reinhard Roll | Project Management |
| Marco Bierwirth | Engineering |
| Mona Wedemeier | CAD |
| Dietmar Oberdorfer | CAD |
| Angelika Hilz | CAD |
| Jan Heise | Electronics |
| Wolfgang Kühne | Electronics |
| Ivor Krause | QA |
Related links