Philae
The Rosetta Lander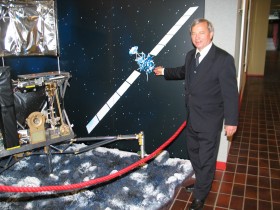 Philae is the name of the Lander spacecraft of the Rosetta mission.
The image shows Professor Churyumov in front of an opened model of Philae in original size at the MPS.
Science objectives
The aim of Philae is do in-situ investigations of a cometary nucleus.


The Spacecraft
Philae is a small autonomous space craft which is to be separated from the Rosetta orbiter and to land on the surface of comet 67/P Churyumov Gerasimenko. It carries ten different scientific instruments.


MPS contribution
Scientific Instruments
| | | |
| --- | --- | --- |
| | COSAC | PI instrument developed, constructed and built at MPS |
| | Ptolemy | Pressure reduction system |
| | Romap | pressure sensor, deployment arm incl. electronics and ion detector |
| | Consert | antennas |
| | Drill | high temperature ovens and tapping stations |
Sub-Systems

Related links