STEREO
S

olar

TE

rrestrial

RE

lations

O

bservatory

News
Science Highlight
STEREO: A New Dimension in Solar Research
August 2006
The launch of the NASA STEREO mission is soon ahead, MPS involved
On September 18 2006 NASA plans to launch two space probes in Cape Canaveral which will initiate a new area in solar research. The two almost identical space probes constitute NASA's Stereo mission. With support also from ESA, the probes have been developed and built in the Labs of the world's leading research institutes in solar science during the recent ... [more]

The Launch
STEREO Mission sucessfully launched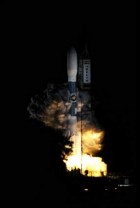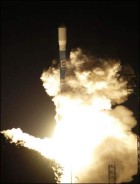 On 25 Okt at 20:58 EDT the two STEREO space crafts were successfully launched into an orbit around Earth.
A few hours later the two space craft were separated, solar panels and magnetometer booms deployed and the heating activated. The SECCHI instruments were turned on for the first time after launch and an abbreviated test procedure was successfully run. The SECCHI doors were released from the super-closed position - all procedures so far worked smoothly. The space craft will remain on their elliptical orbit around Earth for several weeks until they are deflected by the moon into their final orbit around the Sun.

Science objectives
STEREO is a NASA mission designed to make the first 3D observations of the Sun and inner Heliosphere to help unveil the origin, evolution and interplanetary consequences of coronal mass ejections.
STEREO is part of the Solar Terrestrial Probe (STP) Program which comprises five missions dedicated to study solar variability and its planetary responses. To accomplish the scientific objectives, two spacecraft will drift in a heliocentric orbit ahead (STEREO-A) and behind (STEREO-B) the Earth with increasing angular separation with respect to the Sun-Earth line.
Each spacecraft will carry four identical instrument packages for remote sensing and in situ measurements:

SECCHI (Sun Earth Connection Coronal and Heliospheric Investigation)


IMPACT (In situ Measurements of Particles And CME Transients)


PLASTIC (PLAsma and SupraThermal Ion and Composition Experiment)


STEREO/WAVES (SWAVES)



Related links