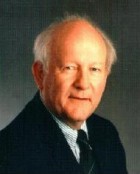 On January 17, 2007
Professor Tor Hagfors
died at the age of 76.

From 1992 to 1998 he was director at the Max-Planck-Institut für Aeronomie MPAe (now Max Planck Institute for Solar System Research MPS) in Katlenburg-Lindau.
With Tor Hagfors we lost an excellent scientist with a world-wide reputation.. He was one of the pioneers in exploring the Earth's atmosphere and its space environment. His fundamental work on the application of electromagnetic waves for studying ionospheric physics and the surfaces of the moon and of other planets is classical and will have an influence on future research..
Tor Hagfors was born in Oslo in 1930. Before he became director at MPAe (MPS) in 1992 he was head of leading radio observatories and other research institutes in America and Scandinavia and he was professor at the Cornell University. At MPAe his work was concentrated on the investigation of cometary interior and the surface and subsurface of Mars. His personal engagement during a severe crisis helped to prevent the imminent closure of the institute.
Tor Hagfors received many important awards for his excellent scientific work including two honorary doctorates.
We will miss an excellent scientist, talented teacher, and a good friend.

Directors and personnel of the Max Planck Institute for Solar System Research, Katlenburg-Lindau.