MOMA
M

ars

O

rganic

M

olecule

A

nalyser

MOMA is a joint European and US instrument that combines gas chromatography and laser desorption to an ion trap mass spectrometer. Its purpose is to answer questions pertaining to the fields of astro- and exobiology; the study of the origin, evolution, and distribution of life in the universe.
Science Objectives
The primary goal of MOMA is the detection of organics, including refractory organics, on Mars. In case of success, the question of biotic or abiotic source is addressed by molecular identification in terms of chirality and isotopic composition.

Together with the other analytical instruments of the Pasteur payload we are confident that we will address the question of life on Mars with MOMA and its two basic operational modes laser desorption mass-spectrometry (LD-MS) and gas-chromatography mass-spectrometry (GC-MS) and will further gain valuable, new scientific data which will further our understanding of the Martian system.

The Instrument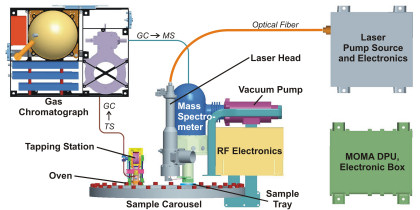 The MOMA instrument provides the opportunity to analyse Martian soil and rock samples in two different ways. As a first option the milled sample can be filled into one of the MOMA ovens which are located on a rotatable sample carousel. After the filling process the oven will be moved to the tapping station which seals the oven. Heating of the oven up to 900°C evaporates all volatile sample components. These volatiles will be purged by a Helium flow to the GC. After doing the gas chromatography analysis the GC exhaust gas will be guided to the mass spectrometer for a further mass spectrographic analysis. This is the GC-MS mode of the instrument.

As a second option a refillable container (sample tray) which is also mounted on the carousel can be filled with milled rock or soil sample material. In this case a frequency quadruplicated Nd:YAG laser is used for laser desorption and ionisation of a small area of the sample surface. The generated ions will be guided by an ion guide to the mass spectrometer for mass spectrographic analysis. This is the LD-MS mode of the instrument.

MPS Contribution
Team Coordinator
Management
Frequency quadruplicated Nd:YAG laser
Tapping Station
Ovens
Overall integration as well as final inspection and testing
The Team
The MOMA team at MPS consists of:
Team Coordinator


Dr. Dr. F. Goesmann


goesmannmps.mpg.de

Project Manager


Dr. O. Roders


rodersmps.mpg.de

System Engineer


E. Steinmetz


steinmetzmps.mpg.de

Project Scientist


Dr. H. Steininger


steiningermps.mpg.de

Engineer (Quality Assurance)


I. Krause


krauseimps.mpg.de

Engineer (elec. Development)


Dr. M. Bierwirth


bierwirthmmps.mpg.de

Chemical Technical Assistant


M. Pulst


pulstmps.mpg.de

Engineer (Test Procedures)


I. Szemerey


szemereymps.mpg.de

Scientist


Dr. M. Hilchenbach


hilchenbachmps.mpg.de

Scientist


W. Goetz


goetzmps.mpg.de

Technician (Electronics)


W. Kühne


kuehnemps.mpg.de

Technician (Electronics)


T. Kleindienst


kleindienstmps.mpg.de

Related links