CONSERT
Rosetta's Radiowave Transmission Experiment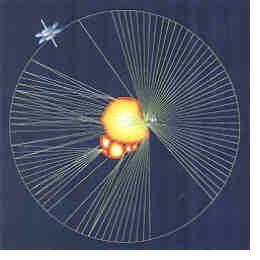 The International

Rosetta Mission is ESA's Rendez-vous Mission with Comet P/Wirtanen.
The objective of the CONSERT experiment is to study a comet at close quarters by placing a lander on its surface and chasing, with an orbiter, the comet for millions of kilometers through space. Comets - among the oldest (4.6 billion years!) and last altered objects in the solar system - are regarded as the building blocks from the planets formed. Thus the Rosetta's discoveries will allow the scientists to learn about the birth and evolution of the planets and about the origin of life on the Earth.
Related links
The CONSERT experiment is a joint project between France and Germany. Germany is responsible for the CONSERT antennas on the Orbiter and Lander, and France for the electronics. The CONSERT experiment is managed by a

French PI team.