First images of a comet by the OSIRIS camera onboard ROSETTA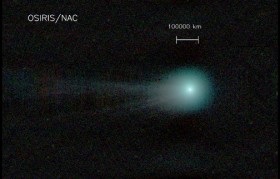 During the commissioning phase of ESA's ROSETTA mission, which was launched on 2 March 2004 and will visit comet Churyumov-Gerasimenko in 2014, the camera OSIRIS has acquired first images of a comet. The comet 2002 T7 (LINEAR) was observed on 1 May 2004 from a distance of about 98 million kilometers. OSIRIS was built by a consortium lead by MPS.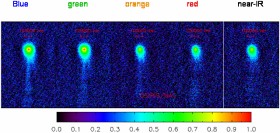 The images shown here were taken with the Narrow Angle Camera. The left panel shows a colour composite of three images taken with the blue (central wavelength 479 nm), green (537 nm) and orange (647 nm) filters. The right panel shows images taken with filters in the blue, green, orange, red (744 nm) and near infrared (882nm) spectral range. The cometary ion tail, mainly visible in light emitted from CO+ ions, can be seen well in the blue and green exposures. The intensity scale of all images is logarithmic.