Welcome
The main goals of the HELAS Local Helioseismology Network Activity are to consolidate this field of research in Europe, to organize scientific workshops, and to facilitate the distribution of observations and data analysis software.
What is local helioseismology & why is it important? Solar oscillations enable helioseismologists to see inside the Sun, just as geophysicists can probe the internal structure of the Earth using records of seismic activity. Local helioseismology is being developed to make three dimensional images of the solar interior. Detailed maps of the upper convection zone provide new insights into the structure, evolution and organization of active regions and convective flows. Local helioseismology is also used to construct maps of active regions on the other side (where we cannot observe) of the Sun. Click here for an extended description.
---
SDO data now flowing into the GDC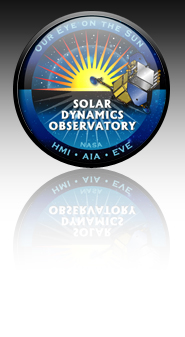 Click here for information on SDO.
SDO launched 11 Feb 2010.
SDO In the News (Google News search)
Space Daily, NASA Launches Another Solar Explorer On Five Year Mission
ASTROnews, Solar Dynamics Observatory erfolgreich gestartet
INFOSAT, Atlas-V-Rakete schickt Satellit "Solar Dynamics Observatory" (SDO) erfolgreich ins All
BBC News, SDO solar observatory launches from Cape Canaveral
Times online, Nasa launches $856m Solar Dynamics Observatory to survey the Sun
DLR, Dem Weltraum-Wetter auf der Spur: Sonnenobservatorium "SDO" erfolgreich gestartet, (english)
BR-online, Die Sonne unter Dauerbeobachtung
Der Spiegel, Sonnenspäher soll Forscher mit Daten überschütten
astroinfo, Sonnenobservatorium SDO im Orbit
Le Figaro, La Nasa a rendez-vous avec le Soleil
Sciences et Avenir, Un peu plus près du soleil
Ciel et Espace, Un satellite part ausculter le Soleil
da Fohla, Nasa lança Observatório Solar com sucesso
L'esspresso, USA: lanciato il laboratorio solare
BBC, NASA lanzó nuevo observatorio solar
El Pais, Un nuevo observatorio del Sol para predecir sus efectos sobre la Tierra
Sydsvenskan, Var tionde sekund får vi en ny bild av solen
Popular Astronomi, SDO ska fånga solens aktivitet på film
Sveriges radio P1, Solteleskop i omloppsbana
---
This website is best viewed using Firefox, Safari or Internet Explorer browsers.