The sub-surface structure of sunspots
The two goals of this workshop are:
(1) to extend the analysis of the sunspot in Active Region 9787,
(2) and to provide a critical review of existing sunspot models.

Motivation for goal (1): The last HELAS workshop resulted in a useful joint analysis of the sunspot in AR 9787, summarized in a Space Science Reviews article. Serious inconsistencies between the different helioseismic methods were uncovered, which cannot be left unanswered.
Motivation for goal (2): Sunspot models are important not only to discuss and assess the validity of the helioseismological inversions, but also to identify the physical constraints that should be included in these inversions. In addition, direct numerical forward modeling of the seismic wave field is emerging as a valid and realistic technique to interpret helioseismic data. The success of this approach relies on a very close interaction between sunspot modelers and helioseismologists.
In order to keep the size of the workshop under control, participation is by invitation only.
Participants are kindly asked to bring their own laptop (a wireless network will be available).
When: The meeting will begin at 9am on Tuesday 12th May 2009 and end in the early afternoon of the 15th. The program is available here.
Proceedings: Our progress will be summarized in a paper, to be published in a peer-reviewed journal.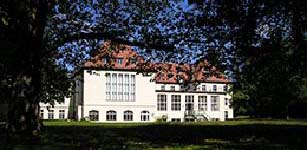 Venue: The workshop venue is the Harnack House in Berlin-Dahlem, with very easy access to and from Berlin city center via the subway system. Directions to get to Harnack House can be found here.
The Harnack House is a symbol of excellence in German academic research, where some of the most famous physicists have lived and worked. Become a part of history!
Accommodation: A block of rooms has been reserved, right next to the workshop venue.
There is no registration fee.
Contact: Laurent Gizon email: gizon[@]mps.mpg.de