Social events
Conference excursion and dinner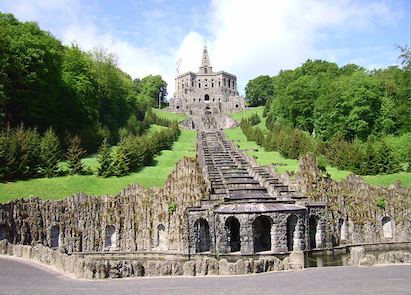 The conference excursion will be held Wednesday afternoon. Participants will receive a packed lunch. The bus will leave at 12:45pm. We will travel approximately one hour to the Bergpark Wilhelmshöhe, a UNESCO World Heritage site, near Kassel.
Acompanying guests also have a packed lunch included. Please be at the MPS at 12 for lunch and bus departure at 12:45pm.
Please bring sturdy walking shoes to climb this steep structure.
The conference dinner will be held at a restaurant in the park, after which we will travel back to Göttingen by bus.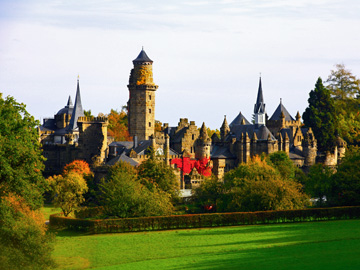 This day will include a visit to the Löwenburg Castle. From afar, the Lion's Castle appears to visitors as a romantic knight's castle from the Middle Ages. However, it was actually built between 1793 and 1801. Conceived as a pseudomedieval 'ancestral castle' by its commissioner, Landgrave Wilhelm IX of Hesse-Cassel, later Prince Elector Wilhelm I, Heinrich Christoph Jussow, the court's master architect, realised the bold plans. The Lion's Castle served not as a fortress, but as a leisure palace. As a result, its interior features stately living quarters, arranged with a rich assortment of historic furniture, paintings, tapestries, glass, bronze, a grand arms collection and medieval stained glass windows, which are indicative of the builder's great passion for collecting.
The appeal of the Lion's Castle is also attributed to its picturesque location in the park as well as the interaction between the 'medieval' castle architecture and the suite of rooms typical of a 'Baroque' palace. As a result, the Lion's Castle is a park decoration, leisure palace and mausoleum at the same time (Prince Elector Wilhelm I is entombed in the castle chapel) and represents a synthesis of the arts that is only one-of-a-kind in the world.