Notice - July 16th, 2009
Laurent Gizon awarded the 2009 Karen Harvey Prize
Prof. Laurent Gizon of the Max Planck Institute for Solar System Research (MPS) in Germany has been awarded the 2009 Karen Harvey Prize of the Solar Physics Division of the American Astronomical Society (AAS) "for his significant contributions and leadership in the development of local helioseismology techniques for the study of the Sun's internal dynamics."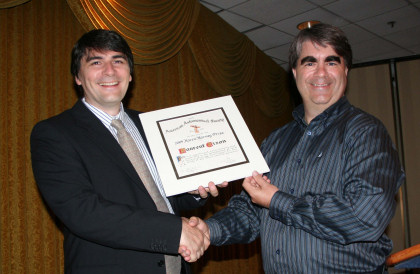 Figure 1: Laurent Gizon (left) receiving the 2009 Karen Harvey Prize from Todd Hoeksema, Chairman of the Solar Physics Division of the AAS, on 15 June 2009 in Boulder, Colorado. Courtesy of David Hathaway.

(Picture: David Hathaway)
Gizon studies the acoustic oscillations of the Sun to probe the solar interior, in much the same way as seismologists use earthquakes to learn about the interior of the Earth.

Helioseismology is used to test and refine the standard model of stellar structure and evolution and to discover new internal properties, such as rotation. Gizon has been involved in the development of cutting-edge techniques to make three-dimensional images of the solar interior. "An important goal of helioseismology is to map the plasma flows that are capable of maintaining the magnetic field and to address the fundamental question of the origin of sunspots and other solar active phenomena," said Gizon.

Gizon is the leader of an Independent Research Group in helioseismology at MPS and he is a Professor of Physics at Goettingen University, Germany. After studying aerospace engineering at Ecole nationale supérieure de l'aéronautique et de l'espace (SUPAERO) in Toulouse, France, he earned a Ph.D. in physics in 2003 from Stanford University, California. Last year he was awarded a prestigious European Research Council (ERC) Starting Grant to prepare for the launch of the Solar Dynamics Observatory (SDO) of NASA.

"Gizon's research has had a fundamental impact on the field of helioseismology" said Prof. Sami Solanki, director at MPS, who nominated Gizon for the Harvey Prize. "Gizon has also been instrumental in applying seismology to distant stars and my collaboration with him has been one of the most exciting that I have been involved in during my entire career," added Solanki.

Gizon gave an honorary Harvey Prize lecture at the meeting of the Solar Physics Division in Boulder, Colorado on 15 June 2009 in front of about 200 professional solar physicists and astronomers.

The Karen Harvey Prize is awarded in recognition of a significant contribution to the study of the Sun early in a scientist's professional career. The prize was established in 2002 in honor of the late Karen Harvey, who earned international recognition for her wide-ranging work on solar magnetic fields and solar activity.

The Max Planck Institute for Solar System Research located in Katlenburg-Lindau, Germany focuses on the exploration of the solar system. The institute's scientific work covers three major fields of research: The Sun and Heliosphere, Planets and Comets, and Helioseismology.

Additional Information

Homepage of Helio- and Asteroseismology at MPS

Contacts
Prof. Dr. Laurent Gizon
Max Planck Institute for Solar System Research
Max-Planck-Straße 2
37191 Katlenburg-Lindau, Germany
Tel.: +49 5556 979 439
Email: Gizon

mps.mpg.de
Dr. Birgit Krummheuer
Press and Public Relation
Max Planck Institute for Solar System Research Max-Planck-Straße 2
37191 Katlenburg-Lindau, Germany
Tel.: +49 5556 979 462
Mobil: +49 173 3958625
Email: Krummheuer

mps.mpg.de