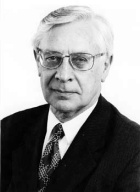 On March 17, 2010
Professor Sir Ian Axford
Professor Sir Ian Axford, a scientific member and director of the Max Planck Institute for Aeronomy (now Max Planck Institute for Solar System Research) in Katlenburg-Lindau since 1974, has passed away at the age of 77.
With the passing of Ian Axford we have lost an outstanding scientist, who was one of the pioneers in magnetospheric and heliospheric exploration. With his essential contributions to the fundamental theories of the structure of the magnetosphere, the origin of the solar wind and the acceleration of cosmic-ray particles, he significantly shaped the science within his research field.
William Ian Axford was born in New Zealand in 1933. He received degrees in engineering science and mathematics from the universities in Canterbury (New Zealand), Manchester and Cambridge and achieved his doctorate in 1960 in the field of applied mathematics. He then joined the Defense Research Board of Canada where he published some of his most influential papers. From 1963 to 1974 he taught Astronomy and Physics, first at Cornell University and then at the University of California in San Diego. From 1974 to 2001 he was a director at the Max Planck Institute for Aeronomy (MPAe), today's Max Planck Institute for Solar System Research, interrupted by a tenure as Vice-Chancellor of the Victoria University of Wellington/New Zealand from 1982 to 1985.
Just two of the numerous and prestigious awards and honours bestowed on Sir Ian were his naming as a Fellow of the Royal Society in London (F.R.S.) in 1986 and the knighthood bestowed by the Queen in 1996.
In 1974 at the age of 41 he was appointed scientific member and director of the MPAe by the Max Planck Society. Ian Axford significantly enhanced the international reputation of the Institute and attracted an increasing number of guest scientists. Under his guidance the MPAe participated increasingly in important international space missions. The contributions to the Giotto mission (a rendezvous with comet Halley) as well as to the solar probes Ulysses and SOHO are some of the greatest achievements during his directorship at the Institute.
Besides fulfilling many duties and holding major positions within the most important scientific organizations in his research field, Ian Axford was heavily engaged in the founding of the European Geophysical Society of which he served as president from 1990 to 1992, and of the Asia Oceania Geosciences Society (AOGS).
After his retirement as director of the MPAe in 2001 he returned to New Zealand, although he still found time to spend a few months a year at the Max Planck Institute. He continued to be scientifically productive until close to his death. On March 13, 2010 Sir Ian Axford died in Napier/New Zealand after a long illness.
We mourn an excellent scientist, a far-sighted director, a gifted teacher and a good friend.

Directors und staff of the Max Planck Institute for Solar System Research