Exomars
The Aurora flagship mission for finding life on Mars

This first mission to be assessed by the Aurora exploration programme of ESA calls for the development of a Mars orbiter, a descent module and a Mars rover.
The Mars rover will be capable of operating autonomously by using onboard software and will navigate by using optical sensors. Included in its exobiology payload will be a lightweight drilling system, a sampling and handling device, and a set of scientific instruments to search for signs of past or present life.
In order to be successful ExoMars will require advanced technology in the following areas:
rover systems
landing systems
an inflatable braking device
power supply
autonomy and navigation
Although this presents a considerable technological challenge for European and Canadian industry, it will bring to fruition many years of technological development both at ESA and national level.
Science objectives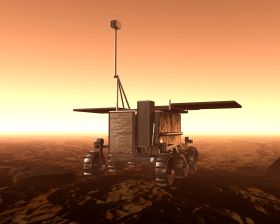 The aim of the ExoMars mission is to further characterise the biological environment on Mars in preparation for robotic missions and then human exploration. Data from the mission will also provide invaluable input for broader studies of exobiology - the search for life on other planets.
The Launch
The launch is scheduled for 2018.

The Journey
The exact journey is not defined yet.

The Spacecraft
The type of spacecraft is not defined yet.

Related links